A bridge loan is basically a short term mortgage loan that gives property owner time to complete some task; improving the property, finding a new tenant and/or selling property. Typical property bridge loan has a term of one year, option to extend for six months to one year.
HBS Finance can help qualified real estate investors access the interim capital they need to stabilize or rehabilitate their multi-family or commercial property. Our experts can tailor a custom financing solution to your specific needs, helping to ensure your project progresses according to plan. With terms up to 18 months, competitive variable rates, interest-only payments, and the possibility of a transition to permanent financing once the property is stabilized.
---
• Foreign Investors / Bad Credit / Investor Flips / Need to close quickly
• Rates start at 7.99%
• Short Terms from 1 to 18 months
• LTV up to 65%
• Loan Amounts up to $7,500,000
• No Credit Check, No Appraisals, No Delay Funding – Close in 7 days
• No Prepayment Penalty
• Financing for Old, Odd & Ugly 'C-Class' Commercial Property
JUNK YARDS – SCRAP METAL/WRECKING/SALVAGE
MIXED-USE REAL ESTATE – MULTIPLE PROPERTY USES WITHIN A SINGLE BUILDING.
RELIGIOUS INSTITUTIONS – HOUSES OF WORSHIP, CHURCHES, TEMPLES
AUTOMOTIVE RELATED – TRUCK & AUTO SERVICE, GARAGE/STORAGE, TIRE SHOP
---
• NATIONWIDE – Non-Owner Occupied Single Family Residence, 2-4 Rental Units, Multifamily, Mixed-use, Office, Retail, Warehouse, Self-Storage, Automotive
• Rates start from 6.99%
• Loan Amounts up to $5,000,000
• LTV up to 70%
• Minimum Credit Score 650
• 30 Year Loan / 30 Year Fully Amortized
---
General Lending Criteria


• Loan Size – Loan Amounts up to $15,000,000
• Location – Urban and suburban US properties. Major metropolitan areas only
• Collateral – 1st Lien Position on improved income producing (rental units, multifamily, mixed-use), industrial and commercial properties.
• Rates – From 8.99%
• Terms – 1-5 years, interest only or fully amortized
• Loan to Value – Class I: 70% / Class II: 65%
• Property Types
Class I: Rental Units, Multifamily (5+ Units) & Mixed-use
Class II: Office, Retail, Warehouse, Self-Storage & Automotive Services
• Eligible States: Arizona, California, Colorado, Florida, Georgia, Hawaii, Idaho, Nevada, Oregon, Texas, Washington
– Minimum population is generally 25,000 unless the town is within 25 miles of a city of 100,000 population.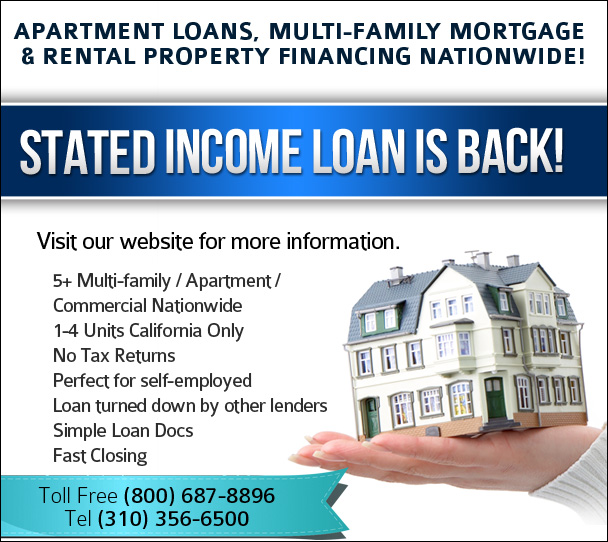 Let us put our experience and expertise to work for you. Call us (310) 356-6500